Steps to troubleshoot connection issues:
1. Move your Sense-U device close to your WiFi router and make sure you are able to connect to internet.

2. Verify the WiFi password has not been changed recently.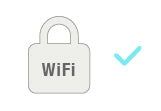 3. Switch your smartphone to cellular plan to see if it is able to stream the video.
4. If the indicator light is solid RED, it means the camera is not able to connect to internet. Check your network connection and WiFi password.

5. If still not working, delete the camera from your current account and register the latest iOS app(3.1.2) with a NEW email address to pair the camera again. It will connect your camera to a closer server to improve connection performance.

* If still no luck, refer to the latest user manual or contact us from the Sense-U App->Setup->Help->Feedback.